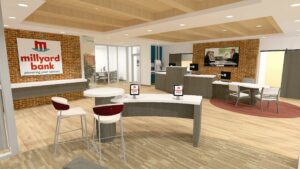 Starting a bank requires a well thought out business plan, engaged directors and shareholders, a banking license, deposit insurance, and a great technological partner. The following outlines how we got our start.
In May of 2018, organizers capitalized our seed company and engaged with consultative resources to guide us through the application process to establish a community bank. The State of New Hampshire Banking Department and Federal Deposit Insurance Corporation (FDIC) approved our application for a banking license and deposit insurance which allowed The Millyard Bank to open for business in December of 2019.
We raised capital through a private placement offering which resulted in over 200 subscribers and nearly $21 million in total capital. Shareholders of Millyard reflect our community: business owners, professionals, and individuals throughout New Hampshire participated in our stock offering. All of our shareholders understand the value of a community bank and many of them will likely establish banking relationships with Millyard.
Concurrent with the application process and capital raising, we sought a technology partner to ensure that we could deliver on our desire to offer best in breed technology. We chose FiSERV as our partner and core provider as they demonstrated to us their commitment to superior banking solutions and excellent customer service. Our technology enables us to have a product set that is second to none!
We proudly opened our doors in December of 2019 to serve the local business community, professionals, and individuals.
Welcome to Millyard Bank – Powering Your Success!